WHERE ARE THE OTHERS? 2014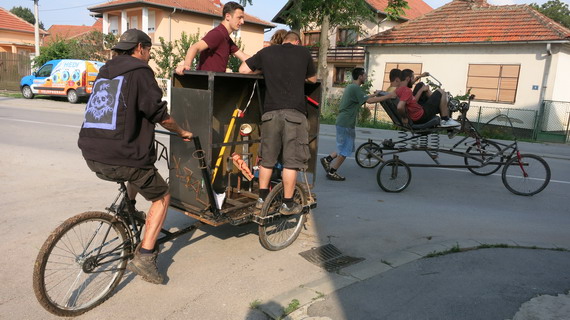 ::series of public actions and the exhibition
::exposing works produced on the karkatag 2014 summer school, themed on interactive mechanical artworks
::6., 8. and 17. - 24. August 2014, Belgrade and Svilajnac

Eight machines, installations and vehicles made during the summer school were used to create two different unannounced actions in public space of Svilajnac and Belgrade. In both cases presence and activation of machines transformed dynamics and routines of chosen places and generated new atmosphere of tumultus event in which passers by, by playing with machines, were changing their usual behavior in public space. As follow up, machines were installed/exhibited in the "Spanish House" gallery and let to be used by visitors.

Program is organized with the support of the Youth in Action programme of the European Union and Urban Incubator: Belgrade, Goethe Institut Belgrade.> It also become symbol of new activities on the ship.