STEEL PROFILES 2013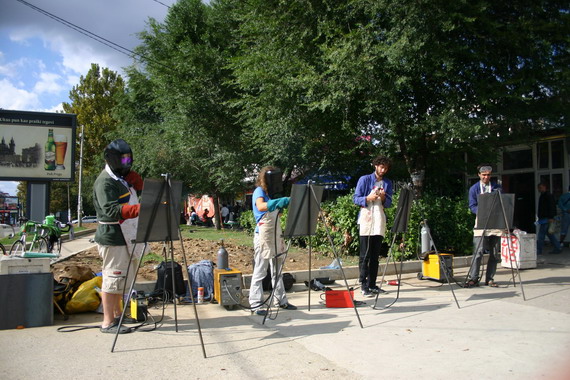 ::action of public portraying by welding on steel
::21.9.2013, plateau in front of Cvetko green market


Four welding machines and four easels were positioned on location. Welders were making portraits of interested visitors/observers by welding on tin plates. Participants of the event were welcomed to co-act in public space: to make portraits themselves, to pose, watch the process or take home some of the artworks.

"Steel profiles" took place in front of Cvetko market, one of important unofficial borders between urban and rural zones of Belgrade. This place is very frequent and provides heterogeneity and great number of willingly or accidentally involved passers by.

This "art technique" successfully combined extremes of both worlds, dirtiest from the dirty jobs and finest from the fine arts, attracting both welders and painters, workers and bourgeois ladies.



concept
marko dimitrijevic
crew
aleksandar popovic/ana dimitrijevic/goran denic/marko dimitrijevic
production
karkatag collective