WE COME SPINNING OUT OF NOTHINGNESS, SCATTERING STARS LIKE DUST* 2014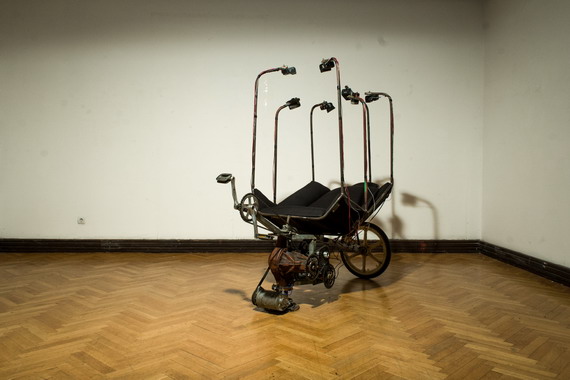 ::pedal powered centrifuge with analogue strobe lights
::made of differential, gearing, dynamo, camera flashes

By pedaling, people rotate around fixed axis simultaneously charging camera flashes through dynamo. Flashes are modified to trigger each time when capacitor reaches the voltage needed to start the xenon bulb. Depending on the speed of pedaling, frequency of flashes changes, thus making strobe effect randomized.

The machine activates as sensory, out of body experience, where spinning and flashlights provoke change of perception of time, space, physical reality and visual perspectives. The effect is reached apart from observation and analyzing, through self-induced bodily experience.

The work draws its motivation from the phenomenon of self-induction present in both dervish practice, mystical practices and self-induced epileptic seizures.


concept
marko dimitrijevic
technical solution
aleksandar popovic/marko dimitrijevic
crew
aleksandar popovic/ana dimitrijevic/marko dimitrijevic
production
karkatag collective/S.C.E.N.E.5
quote
*mevlana dzelaludin rumi