WAVE TO THE SEA 2010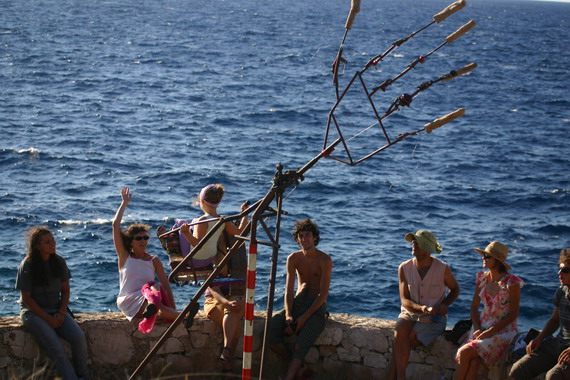 ::swing powered giant mechanical hand with cable manipulated fingers
::made of metal tubes, gear shifter levers, metal chair, car wheel hub, steel cables, springs, fabric, driftwood


Wave to the Sea is site specific intervention on abandoned cannon terrace in the Former Yugoslav military base on Croatian island of Bisevo.
Swinging on the Wave to the Sea makes the giant mechanical hand, rising from the island, wave to the passing ships.
The swing attracts both the locals and the tourists, mapping the narrow rocky path to the terrace and the terrace itself as a gathering space.
The harsh weather conditions strongly affect the structure and make it merge into landscape.



concept
aleksandar popovic/ana dimitrijevic/jovana lutovac
technical solution
aleksandar popovic/ana dimitrijevic/jovana lutovac
crew
aleksandar popovic/ana dimitrijevic/jovana lutovac/marko dimitrijevic/
milica ivic/vladica obojevic/zoe upjohn
video
jovana lutovac/milica ivic
production
karkatag collective/mali zeleni bisevo