REHEARSAL 2016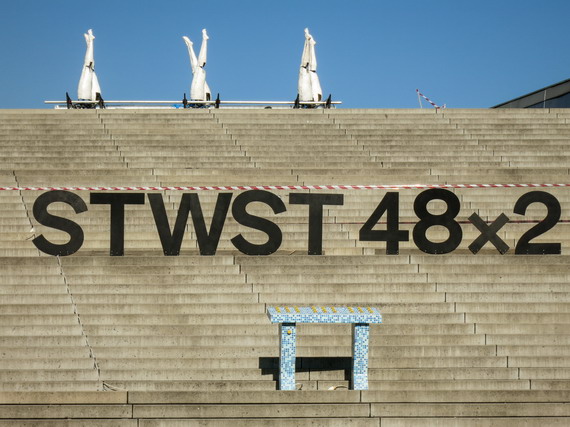 "The Rehearsal", 2016, Linz, Austria

The Rehearsal is an interactive monumental sculpture which functions as a generator for synchronized swimming choreography. It consists of three pairs of pneumatically operated mechanical legs orchestrated by three people from the control desk. Each person is given nine preset synchronized swimming figures to choose from. The participant becomes responsible for their own pair of legs, which act as their body extension and display their own sense of timing and rhythm. The choreographies are therefore always different and can vary from chaotic unsynchronized motion to harmonious and synchronous decorative dances.

The Rehearsal brings people to play together, to create choreographies all the while rehearsing communication, collectivism, shared responsibility but also the ownership of the piece. Project was realized with the support and production of Stadtwerkstatt (STWST) and had its premiere on Ars Electronica festival 2016 as part of the 48hSTWST programme.


concept
marko dimitrijevic
technical solution
aleksandar popovic/ana dimitrijevic/marko dimitrijevic
legs molding
aleksandar krnic
production
karkatag collective & stadtwerkstatt linz